Proposed Installation - Burning Man 2018
The Aquasonic Oasis is an interactive sanctuary for musical expression, introspection, spontaneous connection, and creative inspiration. Our project is designed to harness the latent creative and restorative energy inside of everyone through audio and visual art. At 50 feet in diameter, the Oasis will comfortable hold up to 150 people inside for programmed sound baths, projection mapping performances, and as a 24/7 inclusive art temple space with a variety of interactive surprises.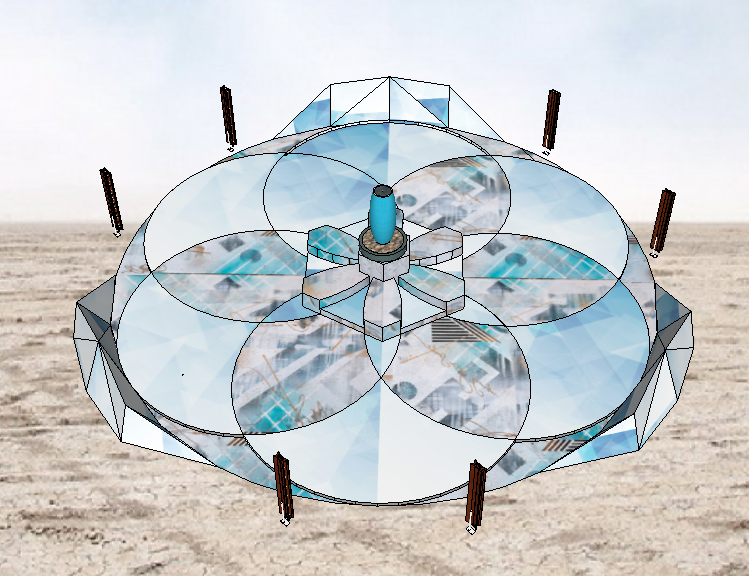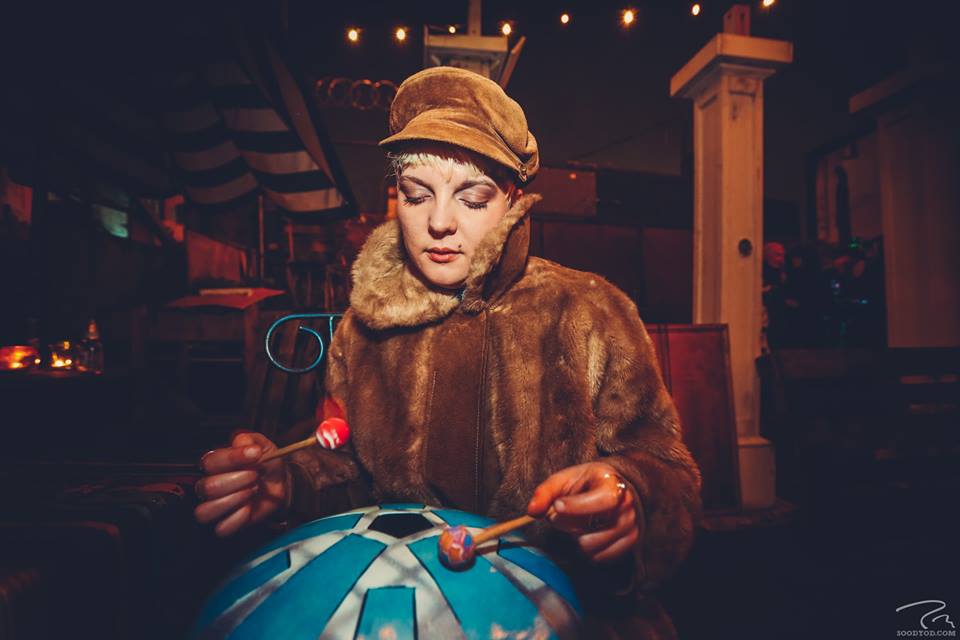 Tongue Drum Instruments
A plethora of melodic steel tongue drums (similar to hang drums) will be arranged throughout the space. All tuned to the same key, these offer an accessible form of musical expression for anyone regardless of skill.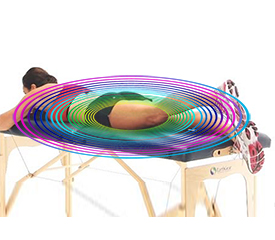 Vibrating Bass Floors
Low frequency subwoofers will be installed in the bulk of the wood flooring of the space for full-body bass massage with ambient music for participants lying down in meditation or rest. This system will can also be played by participants through one of the tongue drums, or by performing sound healers and musicians.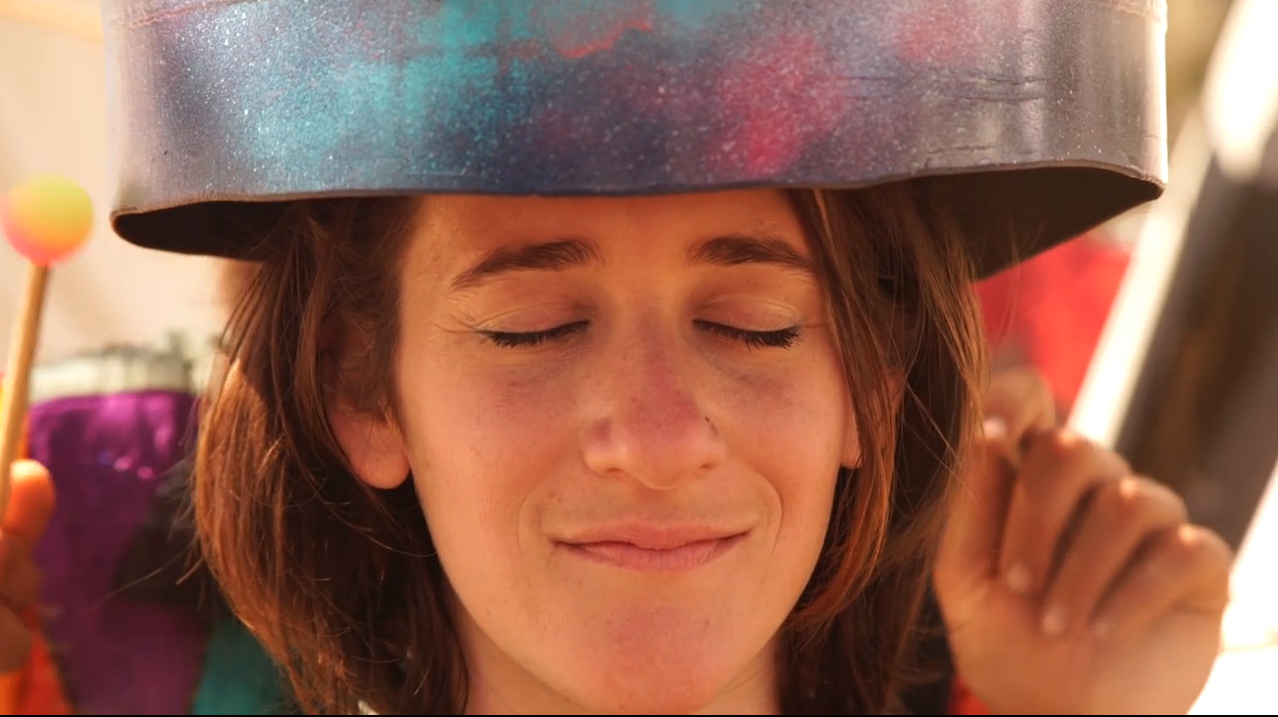 Tongue Drum Bells + Robotic Harmony
Some of the tongue drum instruments will also serve as bells for participants to sit inside of for immersive sound experiences. A robotic mallet system will be playing many of these instruments in unison with programmed arrangements and/or the music played by any participant on the master drum at the center of the space.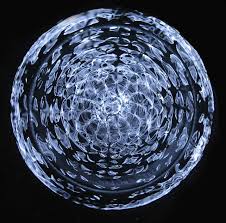 Sound Reactive Lighting/Cymatics Visuals
A cymatic system will be made to create real-time geometric patterns from some of the sounds emanating from the space. These morphing shapes will then be projected onto the roof fabric at night. Color filters will enhance this lightshow, and there will be multicolored LED strips programmed with sound-reactive patterns that pulse throughout the structure at night in response to music being played. Depending on resources, we may bring digital projection mapping artists onto the project as well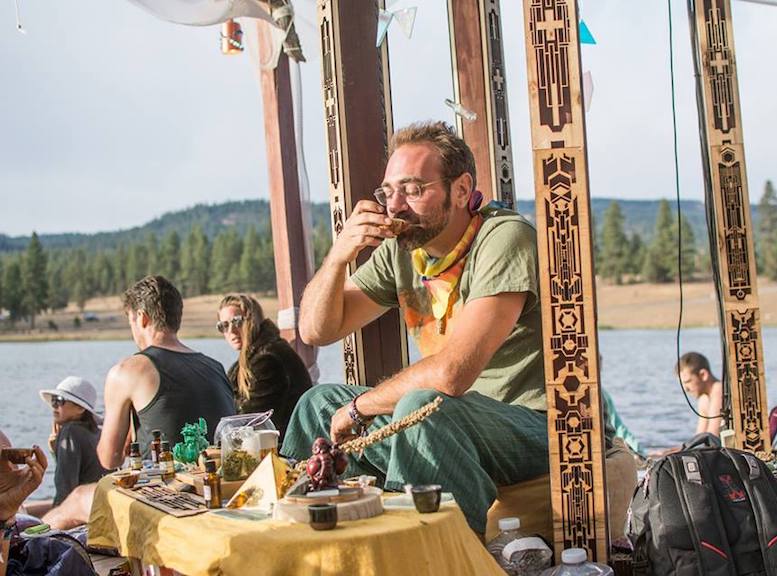 Tea Lounge
A popup tea lounge will take place every night to encourage nooks of conversation and inclusive social connections.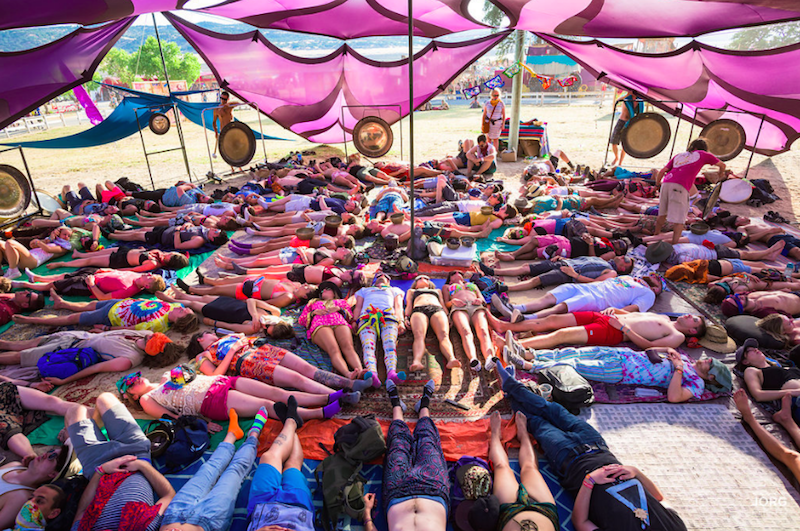 Programmed Sound Baths
We will coordinate multiple sound baths and live ambient music performances during the day and night with resident facilitators for our installation to provide experiences for participants to randomly drop into a state of rest and introspection.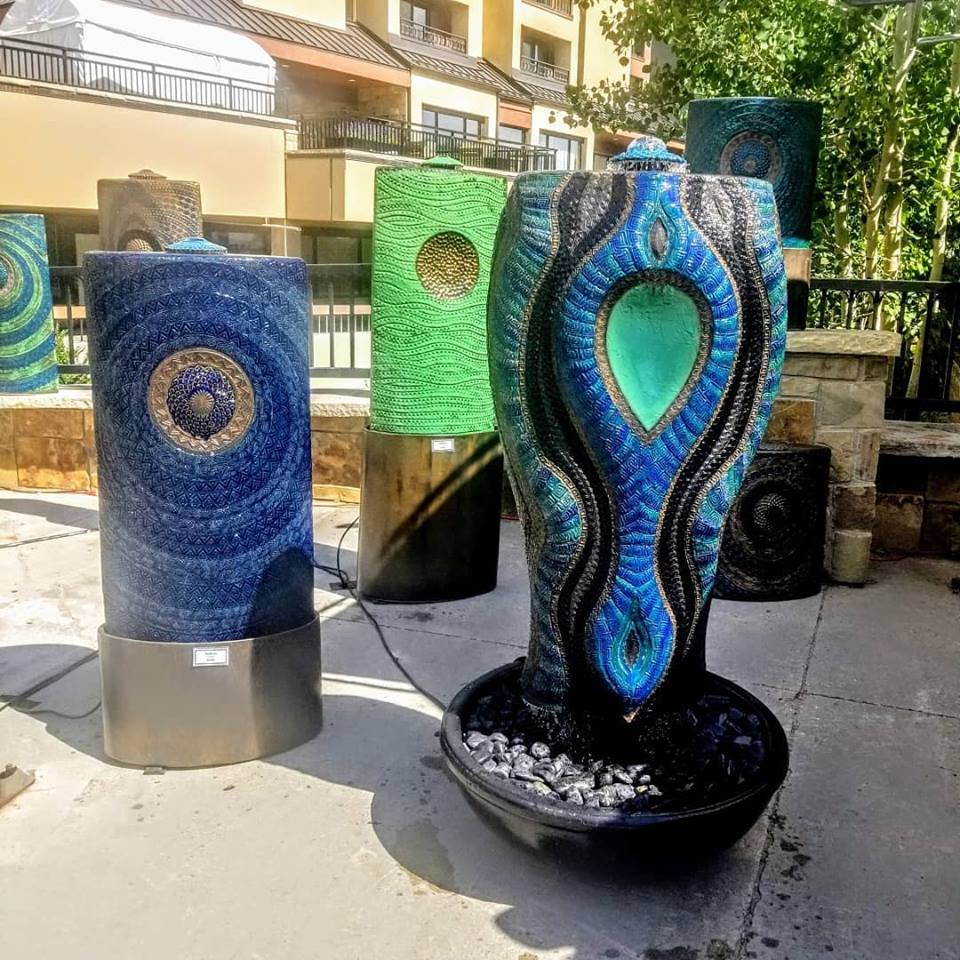 Water Sculptures
Damien Parr, one of crew artists, will bring his large ceramic water features for the central altar in the temple. These will be fully up to code for health inspectors with UV filters and a foolproof water system to prevent any risk of MOOP or electrical hazards.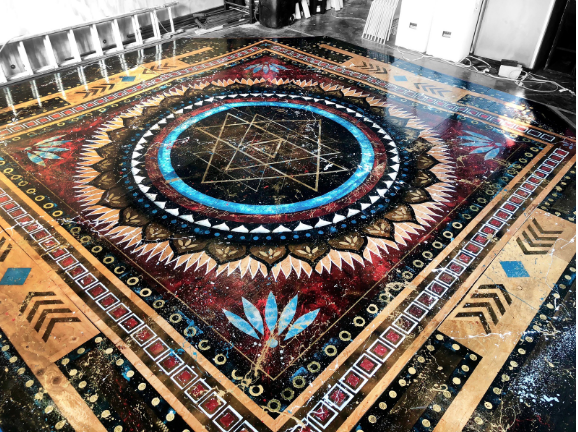 Floor Paintings
Daniel Sun, one of crew artists, will create a massive geometric mural across the entirety of our 1800 sq ft of wooden flooring.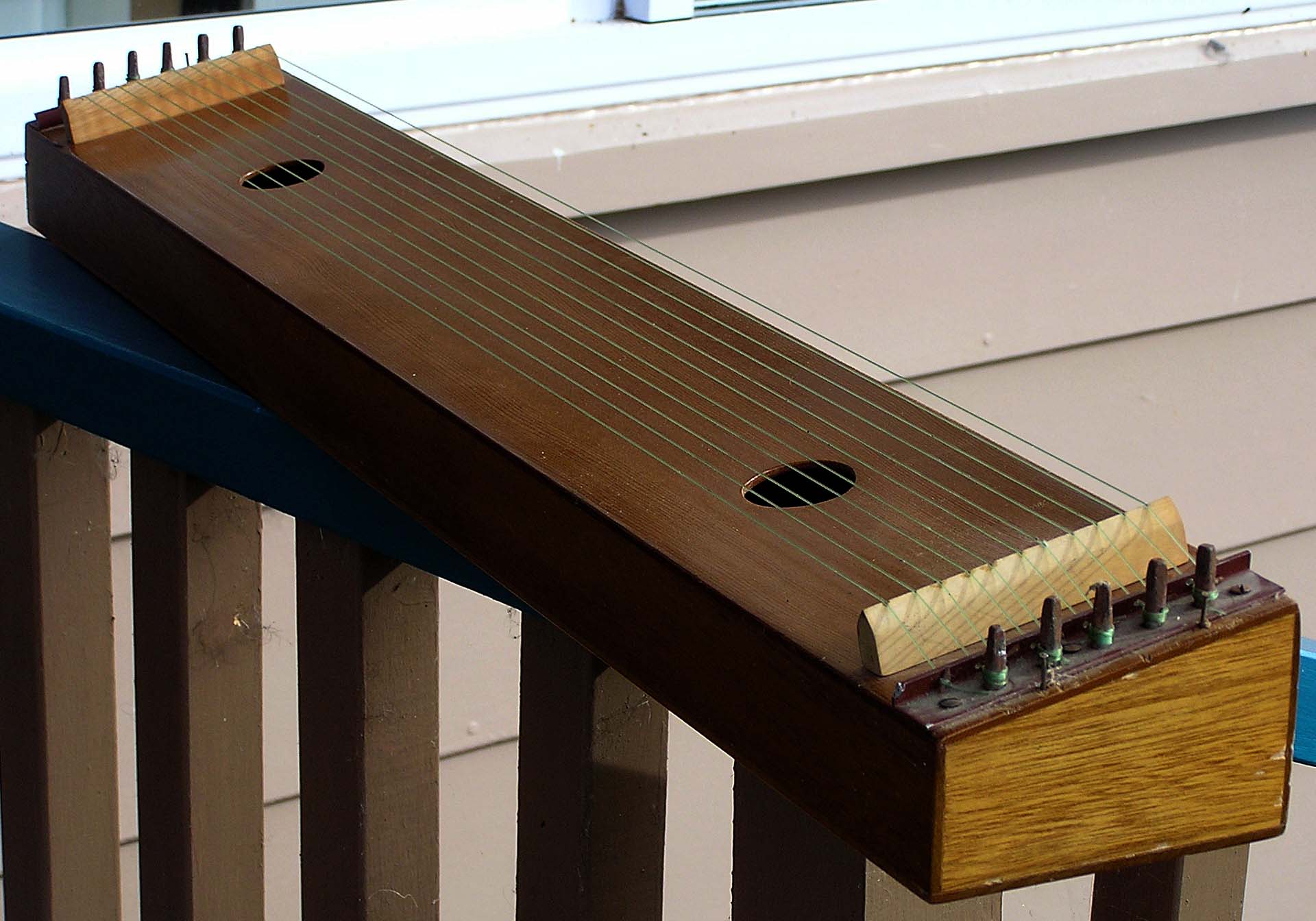 Environmental Soundscapes
Aeolian Wind Harps will play ambient music from the wind in tune with the instruments inside the space, while the sounds of flowing water features will be amplified on speakers inside the space.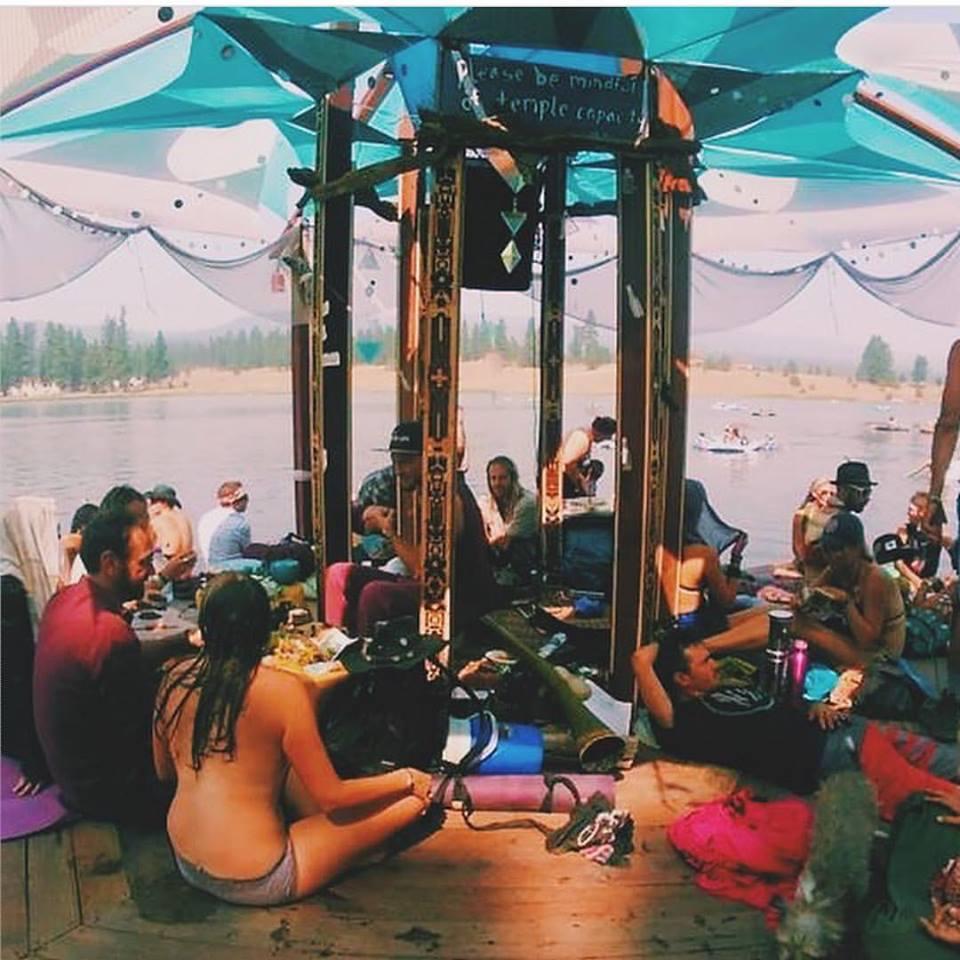 Lounge Spaces
There will be lots of squish/pillows for rest as well as certain nooks designed throughout the space for participants to socialize and create social pockets without disturbing the introspective or interactive elements for other people.
Jameson Hubbs- Lead Artist and Director
Jameson directed the Genius Sound Temple, a floating sanctuary at Oregon Eclipse in 2017 and recently built the Infinitree, an interactive music installation commissioned by the city of North Hollywood. He creates steel tongue drums full time and loves to tinker with immersive art.
Isaac Sabu - Audio/Visual Tech Lead
Isaac comes from a professional background in high end AV design and helped create an interactive vibrating bass floor at camp Hello We Love You at BRC in 2017.
Damien Parr- Artist and Producer
Damien creates intricate ceramic water feature sculptures and has helped engineer and build a variety of structures at Burning Man, including the multi-level scaffolding at Camp Mystic.
Shane Thunder- Programming Lead and Resident Sound Healer
Shane Thunder has directed sound healing temples and served as a sound healer for countless festivals across the West Coast, including Lightning in a Bottle, Lucidity, and Oregon Eclipse.
Jonathan 'Loki' Joseph - Fundraising Lead and Deco Design
Jonathan is a philanthropist, business consultant, and visual artist with experience fundraising for a variety of endeavors.
Ryan Kendall - Fundraising Lead
Ryan is experienced in professional fundraising across multiple areas of expertise and often consults on project management. He currently serves as the acting president of Noise Revolt, an immersive underground art and events company in Los Angeles.
Sam Costigan - Lighting Consultant
Sam Costigan is a project manager with Symmetry Labs, a lighting installation group that's created works such as the Tree of Teneré and the Sea of Lights. Sam has generously offered to consult on our lighting designs from afar.
Sara True - Ranger Consultant
Sara has served as a green dot ranger at Black Rock City in 2014 and 2016.
To Be Decided - Site Ops & Build Lead
Genius Sound Temple - Global Eclipse Gathering 2017
The Genius Sound Temple featured a tea lounge, vibrating bass floors, interactive floating instruments, and a variety of small performances and ceremonies- including a wedding the morning of the solar eclipse. Jameson served as the lead artist and creative director of the project, which operated under an intense timeline from last-minute approval from festival organizers and a need to independently fundraise a majority of project expenses. 
The Infinitree was commissioned by the city of North Hollywood as a kid-friendly immersive art installation. It features vibrating bass floors and tongue drum instruments for interactivity, as well as mosaics from upcycled CD shards and geometric painting throughout the space.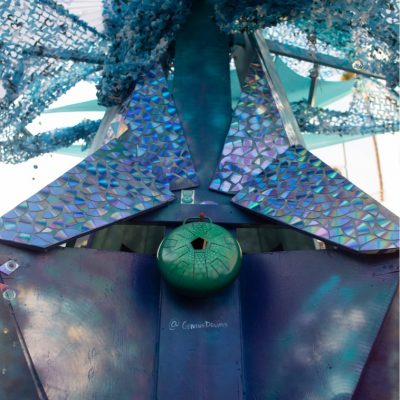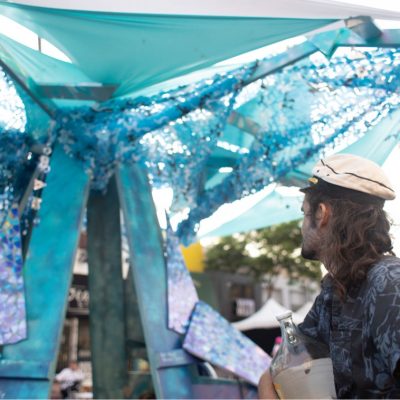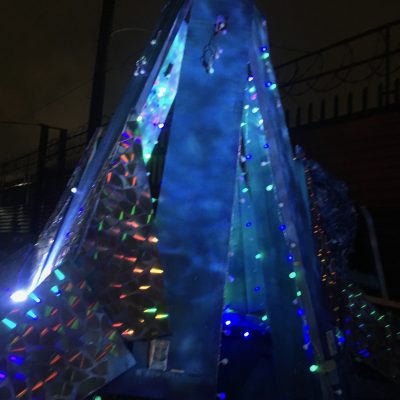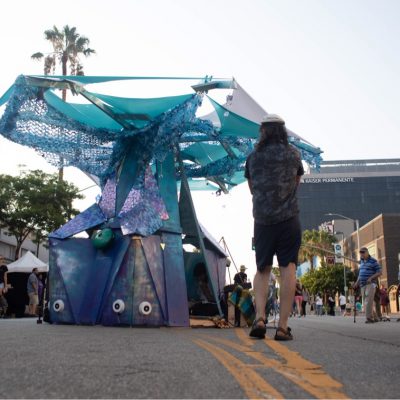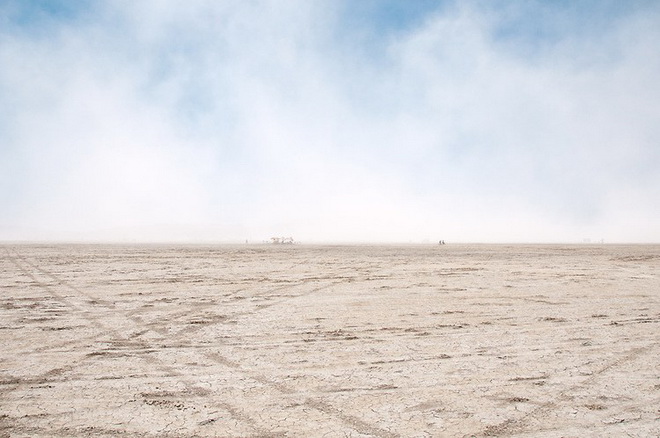 We are making sure that the installation is part sanctuary, part interactive playground, while encouraging of social connection by balancing the layout of the space. There are nooks to converse with a nightly tea lounge, areas focused more for rest/introspection, and zones to dedicated to interact with the instruments and cymatics. As this is a 48 ft diameter environment, it's necessary to keep the energy balanced, as sometimes temple environments can be too intense, sound healing domes empty or overly programmed, and interactive installations too cramped and chaotic. We will provide meditation cushions and pillows, as well as angled walls to lie against. Inclusivity and encouraging participation are paramount to our vision of this installation: the 3 entrance ways to the structure are wide and inviting, and we will have someone onsite to hold space whenever the environment becomes crowded.
A core intention of our environment is to connect people with the feminine energy of the playa. Some parts of the structure will be open to dust storms- which, when experienced with stillness, are some of our most beautiful experiences in BRC. With the water elements of this piece (and probably some 3D printed fairy shrimp deco) we aim to remind participants of the presence of this beautiful substance in all areas of Earth and our location among a very unique desert lakebed.
In conclusion, we're proposing this installation for the thousands of participants in this space to encounter something beautiful- in themselves, in each other, and in the magic that participatory art and shared liminal experiences can create. The core sound, design, and interactivity elements of this project are grounded in years of experimentation with our own festival installations that provide indirect psychedelic harm reduction and fill the void caused by the disappearance of ambient chill out zones in our culture. Burning Man could definitely benefit from spaces that benefit mental health in this way, in addition to ways for people to connect outside of workshops and soundcamps. We're honored to have a vision for something new to contribute to our giant community here.